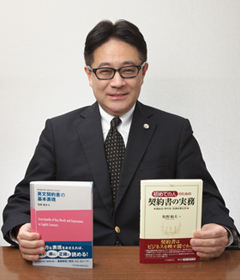 MAKINO, Kazuo


Special Counsel
Attorney-at-Law (Daini Tokyo Bar Association; Michigan Bar & American Bar Association); Patent Attorney (Japan)
Born in Tokyo on September 28, 1958


Concentration
Litigation (Japan & International), International Business Law, International Contracts, Intellectual Property (Copyrights, Patent, Trademark, Design, Trade Secret), Multi-media Law, Cyberspace Law, Corporate/Business Law, Products Liability, Joint Venture, M&A, Information Law (including Personal data, big data and artificial intelligence), IT(Information & Technology) law, and Insurance.

Education
Waseda University School of Law (LL.B., 1981); GM Engineering and Management Institute (currently, Kettering University) (Certificate with Dean's List, 1989); Georgetown University Law Center (LL.M., 1991); Harvard Law School Negotiation Program (2013 certificate)
Experiences
1981-1997, Legal Staff & Legal Manager, Isuzu Motors Limited;
1992 - Present, Attorney at Law, Member of Michigan Bar & American Bar Association.
1992-1997, PL Committee Member, Japan Automotive Manufacturers Association (JAMA);
1997-2000, General Counsel, Apple Japan, Inc.;
1998-2000, Japan Representative, Business Software Alliance (BSA);
1999 - 2002, Adjunct Professor of Law, Temple University School of Law (teaching "International Contracts Drafting");
2000 - 2005, Professor of Law, Kokushikan University.
2000 - Present, Special Counsel, Shiba International Law Offices;
2000 - Present, Adjunct Professor, Kwansai University Business School
2001-2004, Special Advisory Committee Member to the Cabinet of Japan (Reform of Legal Education and Bar Examination System of Japan).
2003 - 2015, Adjunct Professor, Waseda University Graduate School of Global Information Telecommunications Studies;
2005 - 2010, Professor of Law, Omiya Law School
2005 - 2006, Visiting Professor of Law, Tokyo University of Science, Graduate School of Intellectual Property
2006 - Present, Attorney at Law (Japan) & Patent Attorney (Japan)
2011 - 2015, Visiting Professor of Law, Omiya Law School
2014 - Present, Adjunct Professor, Waseda University
2016 - 2019, Adjunct Professor, Tokyo Medical and Dental University
2017 - Present, Adjunct Professor, Doshisha Business School

Major Publications
Business Methods Patent, Nikkei (co-authored, 2000)
Legal Guidebook for Internet Business, Nikkei (2001)
Informational Intellectual Property, Nikkei Video (2002)
Genetic Patent Strategy, Chuo-Keizai-Sha (co-authored, 2002)
Informational Intellectual Property, Nikkei (2003)
International Business Law, Chuo-Keizai-Sha (co-authored, 2003)
Cyberspace Law Q&A, Gakuyo-Shobo (2003)
Products Liability Volume 6, Matthew Bender Lexis Nexis (in English language, 2003)
Intellectual Property Case Book (in both English and Japanese languages), Japan Patent Office & JIII (Editor, 2004)
Intellectual Property Key Word Dictionary, Prosper Planning (Editor & co-author, 2004)
Legal English Handbook, Prosper Planning (2004)
Personal Data Protection Law Handbook, Gakuyo Shobo (2005)
Intellectual Property Law, Zeimu-keiri Kyokai (2007)
US Legal System for Japanese Lawyers and Business Professionals (editor & translator), Lexis/Nexis Japan (2007)
+ other law books in specialized areas have been published from major law book publishers in Japan (In total about 77 authored or co-authored law books published by Prof. Makino as of 2021)